THE GIANT
SPIDER
WHERE: 
Brønshøj, Copenhagen, Denmark - 2015
COLLABORATION:
Marianne Levinsen Architects
CUSTOMER: 
Brønshøj School
The Spider playground at Brønshøj School has a graphic and dramatic expression. The design of the playground was created in collaboration with Marianne Levinsen Architects, who was appointed to design the outdoor area of the school. The aim was to design the area to complement the school's unconventional and modern look. The result was a one-of-a-kind play area for the kids with space for imagination and physical play. 
This giant spider has a dangerous and impressive vibe, daring you to explore it. You can choose to climb up one of the hairy legs or you can simply use the ladder on the side. The enormous size of the spider allows you to climb into its body.
The impact material has a distinct expression, boldly designed in black and white with circles like a target pattern - an abstract reference to the cobweb. The optical effect of the circular pattern makes the spider seem more alive and in motion.
The spider has spun a web between its legs, that allows you to climb from leg to leg and then swing on the steel bars. 
The forest of wooden trunks is designed with variations in height and with the aim of inspiring the kids to challenge themselves to balance and climb. 
CLIMB UP THE
HAIRY LEGS OF
THE GIANT SPIDER
Besides the spider, the playground also has round boards on springs for the kids to bounce and jump on. 
SIMILAR PROJECTS
Chasseneuil-du-Poitou, France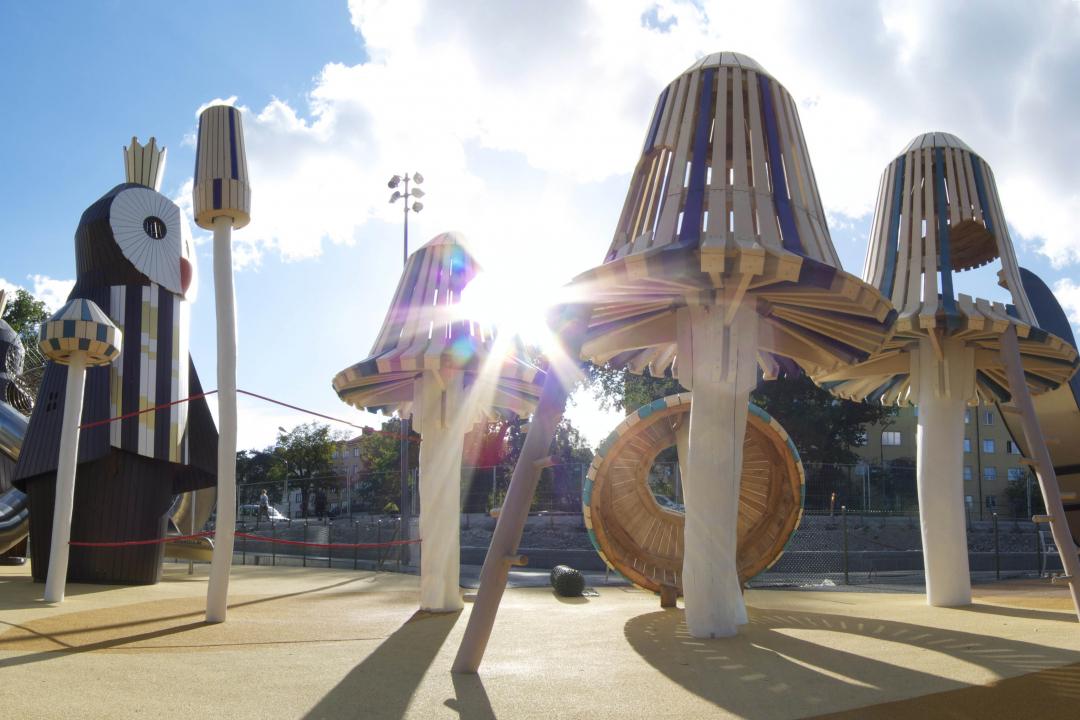 Stockholm, Sweden