WHERE: 
Moscow, Russia - 2015
CUSTOMER: 
VDNH - Vystavka Dostizheniy Narodnogo Khozyaystva
The Cosmos playground is situated at VDNH in Moscow, which is a large exposition, museum and recreational complex. As an extension of the museum, they wanted a playground to help teach the kids about the Russian space program.
At the playground, it is possible to ride the space shuttle and vehicles of the Russian space program, after learning about them at the museum. The giant wooden structures frame a scene where different adventures can unfold. 
The biggest element of the playground is the R-7 SOYUZ rocket, which is a Soviet carrier rocket designed in the 1960s, and remains in service today. The kids can learn about the rocket in the museum and afterwards experience climbing in it. 
The playground is placed next to a real space shuttle, which is part of the museum exhibition. 
The playground layout consists of many elements creating lots of routes around it and spaces to play. This results in a good flow aroud the playground, making it possible for many kids to play at the same time.
Meet the dogs Leika, Belka or Strelke and jump onto the satellite Sputnik, the launch vehicle R-7 Soyuz and moon vehicle Lunokhod 1. History is combined with play as kids navigate the iconic designs from outer space.
The two space rockets are connected with a steel mesh tunnel. 
ENJOY THE
VIEW FROM
R-7 SOYUZ
Jump onto the space vehicle and explore the planets of the universe. 
An abstract interpretation of earth is placed across from the rockets. The design is a complex structure to climb with a slide and climbable rope suspended from the ground. 
5 space dogs are placed on springs across the playground, with reference to the famous dogs who were sent out into space as part of the Russian Space Program. 
SIMILAR PROJECTS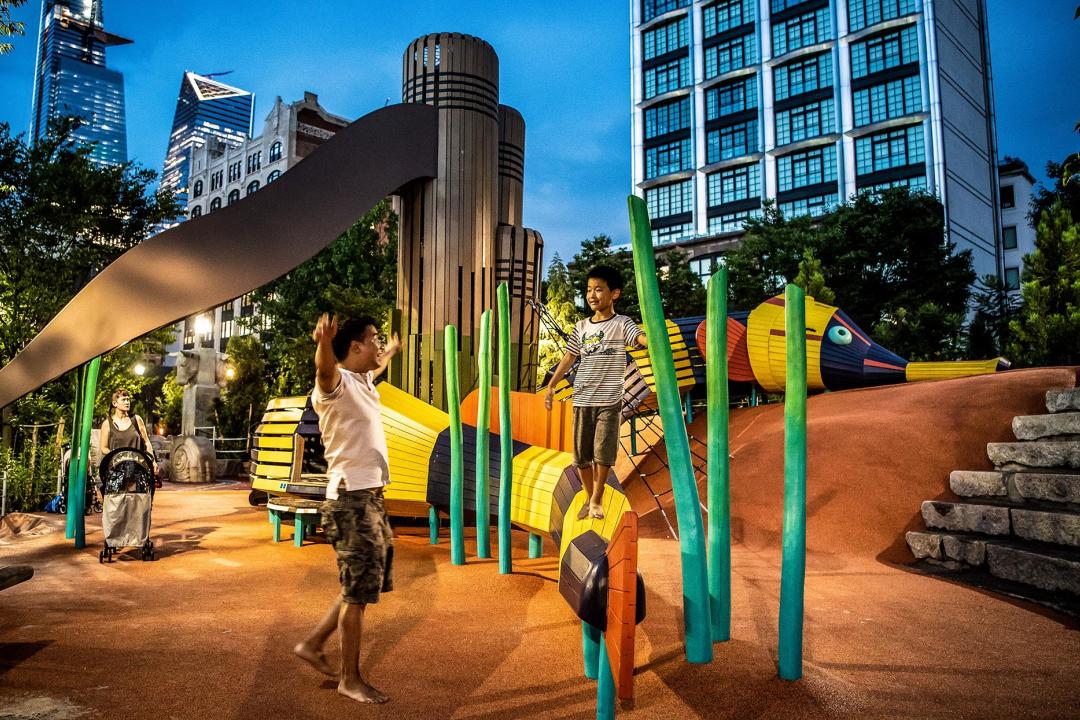 New York, USA