THE JOURNEY
TO LEGO HOUSE
WHERE: 
Billund, Denmark, 2017
COLLABORATION:
LEGO House
CUSTOMER: 
LEGO House
LEGO House in Billund was designed by BIG Architects, who developed the concept of a house built out of 21 giant white LEGO bricks that not only create space for indoor activities but also form a maze of linked roof terraces and public playgrounds. We were assigned the task of creating 9 playgrounds with a storyline and concept that matched LEGO's imaginative universe.
The hot air balloon has landed on the bright yellow cornfield. 
The two scarecrows are connected by a steel bar for the kids to hang and balance on. 
IT'S ALL
ABOUT THE
JOURNEY
The concept of the playgrounds is inspired by the images on the front of the LEGO packaging. They always depict a scenario showing the toys in action - like the LEGO man skydiving from a plane, a construction site busy with work or a fun hangout time on a boat.
The playgrounds are like these scenarios – 9 adventurous ways to get to LEGO House. Just imagine arriving in a hot air balloon, a rocket or maybe even in a submarine?
These stories are placed around the many rooftops of the house, creating a maze of dramatic exploration.
BATTLING
MONSTERS
TO GET TO
LEGO HOUSE?
The design of the submarine is made to create different stories for the kids to play. They can play the hero, the victim or the villain. 
The inside of the submarine is a maze of small places to discover.
The sea monster is connected by steel bars for the kids to enjoy playing on.
SURFING ON
DANGEROUS
WATERS?
The attack of the shark playground consists of 5 surfboards on springs, a shark's head and a buoy to float on. 
The surfacing on the playground is formed like waves to emphasize the experience of the battle at sea, and the surfboards have springs to simulate the feeling of surfing. 
MAYBE COMING FROM
OUTER SPACE?
The exhaust fumes of the space shuttle creates a maze of objects to explore and climb. The space shuttle has a slide on its side, shaped like clouds.
In the rocket, the kids can challenge their climbing skills while crawling from platform to platform. 
PERHAPS RIDING
THE TOPSY TURVY
WIND?
The steel pole is designed to challenge the kids' physical skills. The structure invites them to explore how to enter the helicopter, but also to climb and swing in new and different ways.
OR SIMPLY
ARRIVING
ON FOOT?
The giant swing behind the camel consists of 7 different swings - each with its own challenge. The short swing has the fastest pace but the taller ones will reach even higher up in the sky. 
At each playground you will find classic polaroid frames, which invite people to take a snapshot, perpetuating family memories and the experience at LEGO house. 
TAKE A
SNAPSHOT
ON YOUR WAY
The forest playground is for the smallest kids with small challenges and easy contact with caregivers. The forest forms a small labyrinth with animals and mountains to explore. 
SIMILAR PROJECTS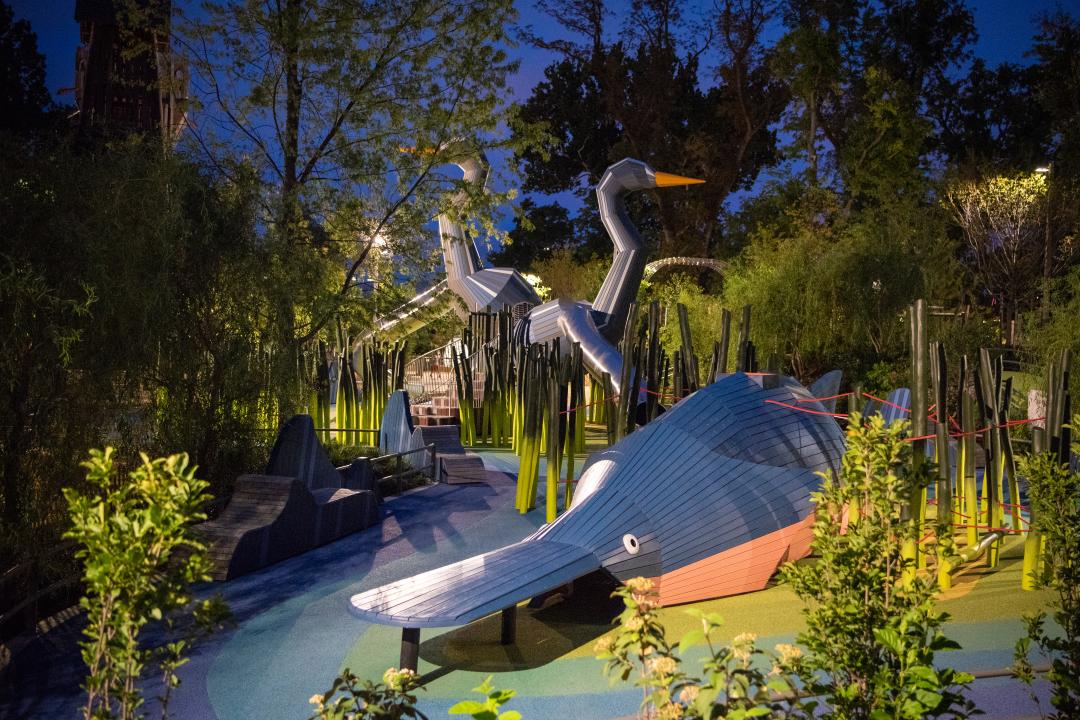 Tulsa, OK, USA