LISEBERG
VICTORIAN
GARDEN
WHERE: 
Gothenburg, Sweden - 2016
CUSTOMER: 
Liseberg Amusement Park
In Liseberg Amusement Park, the white MONSTRUM palace shines bright amongst the surrounding greenery. The palace is part of a playground, which embraces a magical universe where children can climb on huge flowers, visit birds in their giant birdcages and explore the beautiful palace itself.
The playground is specially designed for Liseberg, as they wanted a playground that matched the enchanting universe of the park. At the park, both botanics and architecture are in focus. The design of the palace is inspired by the style of London's Victorian-era Crystal Palace, with its complex structures and a transparent effect created by utilizing glass, steel and wood as materials. 
There are numerous viewpoints for the kids to scout over the amusement park. 
There are several mirrors inside the playground elements, which add to the effect of the wires structures. 
A PALACE OF
PLAY FEATURES
The playground's decorations and details act as clues that lead the kids around the universe, where different adventures unfold on the many routes. The 1st floor of the palace leads visitors through long corridors to the long slides or up to the open roof, where mirrors and reflections create a mesmerizing experience. Close to the palace, there is a peculiar spiral tower with an infinite bridge that bends over the flume ride and under the rollercoaster station. On the other side reaching to the sky, four canary birds sit in their giant birdcages. 
The Liseberg site was bought by the Nonnen family in 1821. John Nonnen was passionate about gardening and was the one who brought the 'Dahlia' flower to Sweden. At the rear of the palace, you will also see a lot of these Dahlia flowers.
The red line is a recurring element in the playground. A bright contrast to the white structure, it's also used to lead the kids on to explore the rest of the playground. The red line and cat paws refer to a local story about the Nonnens and a cat.
CLIMB UP
TO THE END
OF THE SKY
Across from the palace is a spiral tower with an infinite bridge that bends over the flume ride and under the rollercoaster station. The spiral tower has a big slide and the top is made into a giant birdcage. 
RUN UP ALL
THE STEPS AND
SLIDE DOWN AGAIN
The tower is climbable by way of the internal spiral staircase. 
JOIN THE
THE BIRDS
IN THEIR
CAGES
The birdcages form a complex structure - one of the most challenging MONSTRUM has ever made. 
The cages are connected with steel mesh tunnels forming a labyrinth of steel and wires. 
SIMILAR PROJECTS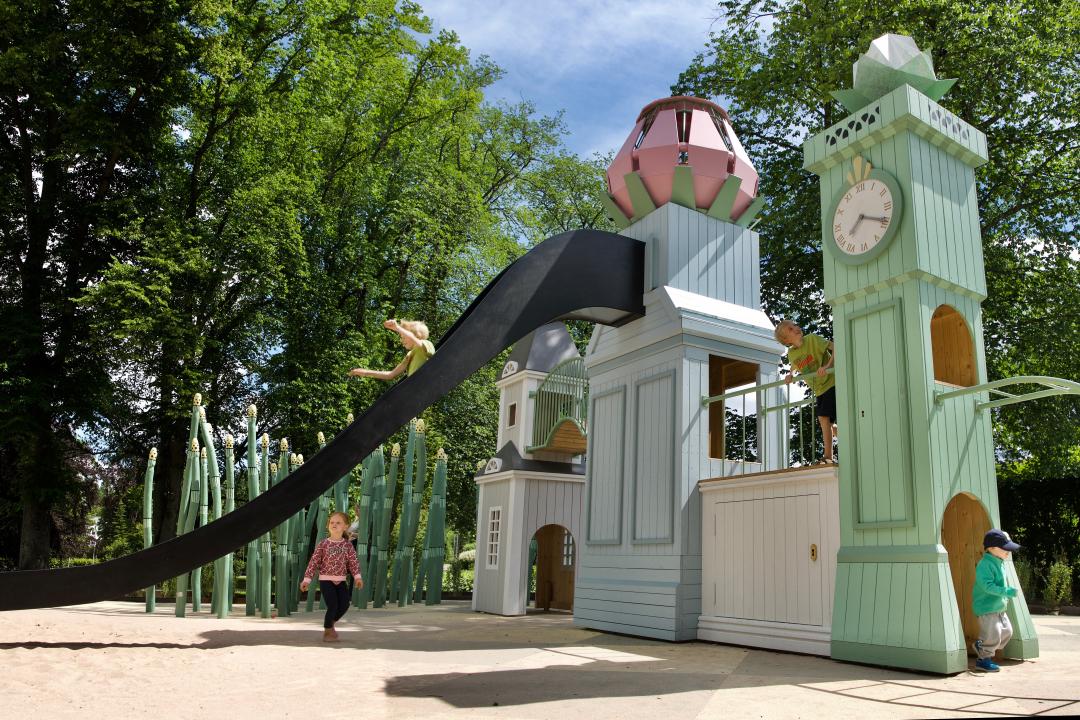 Växjö, Sweden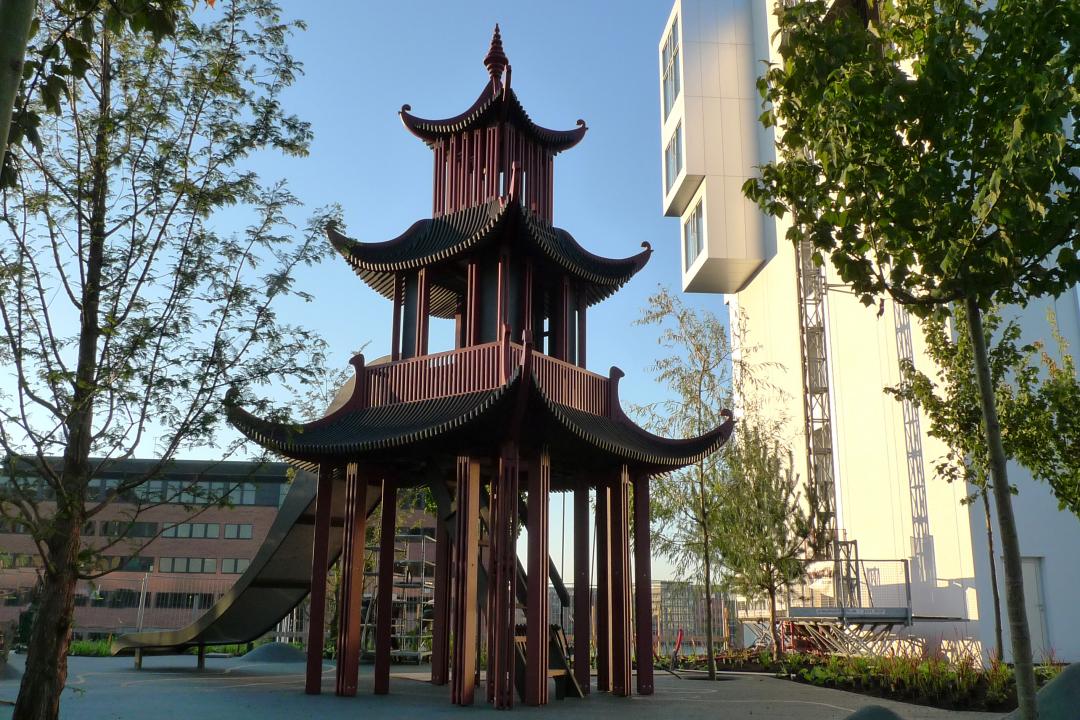 Copenhagen, Denmark