AN INDUSTRIAL
HISTORY ADVENTURE
WHERE: 
Horsens Industrimuseum, Horsens, Denmark - 2021
CUSTOMER:
Horsens Industrimuseum
The Industrial History Adventure playground is located outside the Industrial Museum in Horsens. The playground brings history to life by providing a space for children to experience some of the machines that they can learn about in the museum. The playground is designed to cater for all ages and has a large challenging play area for the older children and an area for younger kids with smaller, low-to-the-ground elements.
The centrepiece - the 8 m tall gas tank - comprises a small play area at the bottom with a gas cooker and ramps, rope nets & platforms that create fun climbing routes up to the top platform, where the huge tube slide can be accessed. Next to the gas tank, the bright red steam engine pays tribute to one of the most important inventions of the industrial revolution. Inside, there are fun interactive features to explore. Beyond the main structures, there is a cogwheel climbing course, a nut-shaped playhouse, basket swings, a smaller slide and several classic Nimbus motorcycles on springs.
The playground was gifted to the museum and the town by the Schur foundation in celebration of Schur's 175 year anniversary.
Entry to the playground is free.
The 8 m tall gas tank and Nimbus motorcycle.
The steam engine can be climbed into and explored in many different ways - there are lots of fun features hidden away inside!
JOIN THE
INDUSTRIAL
REVOLUTION
Venstre kolonne
The characteristic large wheel outside the museum served as inspiration in the design phase.
Højre kolonne
Climb over the big wheel then jump from cog to cog on the fun obstacle course.
This area is specifically designed with younger kids in mind with smaller, familiar play features for them to enjoy.
The iconic Nimbus motorcycle was the inspiration for the design of the motorbike play features.
CLIMB ACROSS
THE GIANT

GAS TANK
Inside the gas tank, kids can try their hand at cooking on the gas cooker or read the gas meter.
The huge rope nets in the gas tank are a fun challenge for the older kids to climb and clamber across to get around the tower.
This musical wobble board is super fun to bounce and play on!
From above, the pattern details in the rubber impact surface are clearly visible - a fun detail, which also acts as pathways around the playground directing the flow of play.
Venstre kolonne
Kids can enjoy a fun musical play feature in the tall chimney of the steam engine.
Højre kolonne
Inside the steam engine, there are painted details to discover and kids can pull the rope around to play the chimes inside the chimney. 
FEATURED PROJECTS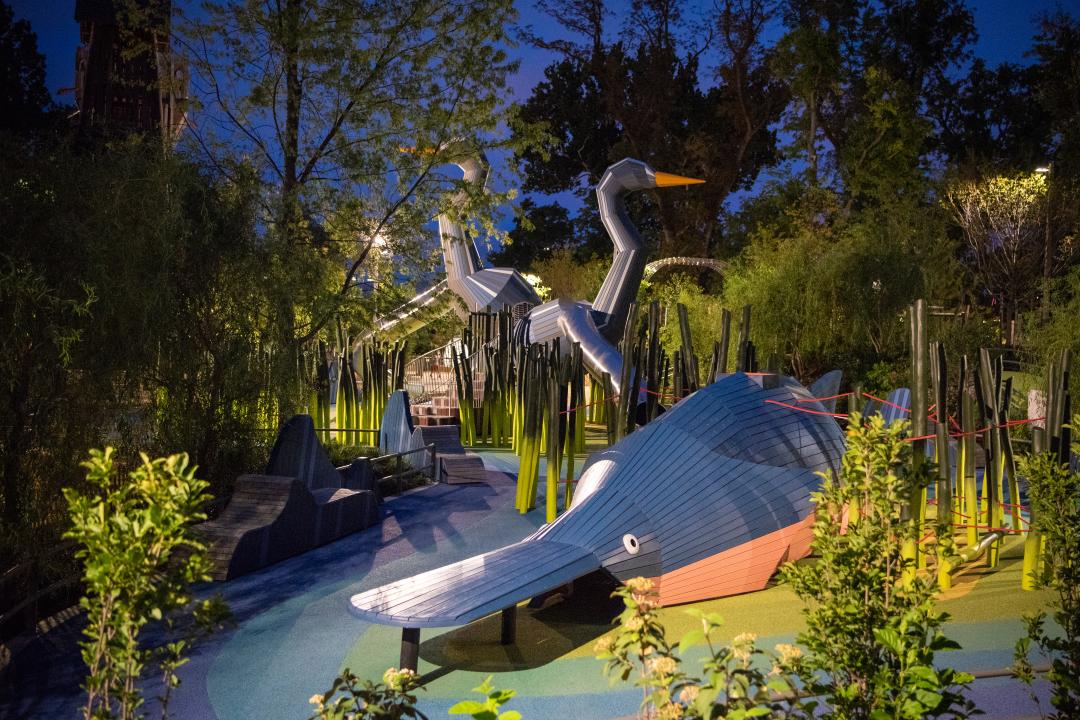 Tulsa, OK, USA