WHERE: 
Aarhus, Denmark - 2015
COLLABORATION:
Schmidt Hammer Lassen Architects
CUSTOMER: 
Aarhus city
The Globe is situated outside the cultural center and the main library by the harbour of Aarhus. The project was created in collaboration with Schmidt Hammer Lassen Architects as part of an urbanisation of the waterfront.
On the 14.400 sqm large deck, we designed a narrative playground consisting of five distinct areas, each representing a specific compass direction, and designed to bring the lessons of the library to life. In addition, the ambition was to create a design to match the architectural expression of the building. 
Cover photo and photo of DOKK1 building below by Adam Mørk.
The ropes under the wings can be climbed and balanced on, so the kids can imagine themselves flying alongside the eagle. 
The shape of the volcano is interpreted in an abstract and geometrical form. The bright and intense orange color expresses heat and activity and is a key element in communicating the story of the volcano.
The orange line segments make an intense contrast to the calm grey and the sharp lines of the form. Photo by Adam Mørk.
The volcano is hollow and painted bright red on the inside. Here the kids can climb the rope that is suspended across the walls. 
A PLAYGROUND
THAT TAKES YOU
ALL AROUND
THE WORLD
'DOKK1' is home to the main library - a symbol of the culture, history, and knowledge of our globe. We based the design of the playgrounds on this theme, by creating five playgrounds - each representing a specific compass direction with details telling small stories about the wildlife, animals, landscape, geology, and culture from each of the specific areas. 
Each play area provides different opportunities and spaces to play, aiming to inspire and evoke childrens' and adults' curiosity and bringing the stories from the library to life.
WRESTLE
WITH THE
GIANT
RUSSIAN BEAR
The Russian bear is 7,5 meter tall holding a hollow trunk for the kids to slide down through. On the inside of the bear there are small Russian paintings.
SAY HELLO
TO THE KING
OF THE JUNGLE
Teens find the playground area to be a cosy hangout space at night. 
The nest swing is a relaxing experience for both kids and adults.
SLIDE ON THE
BACK OF THE
CHINESE
DRAGON
The dragon has a slide and steps on its back which is designed to fit the smaller children. 
BALANCE
ON THE
WOBBLY FLOES
To the North you will find ice flows on springs to balance and jump on. 
THE PRODUCTION
OF THE GLOBE
Watch the installation of the playgrounds for DOKK1.
SIMILAR PROJECTS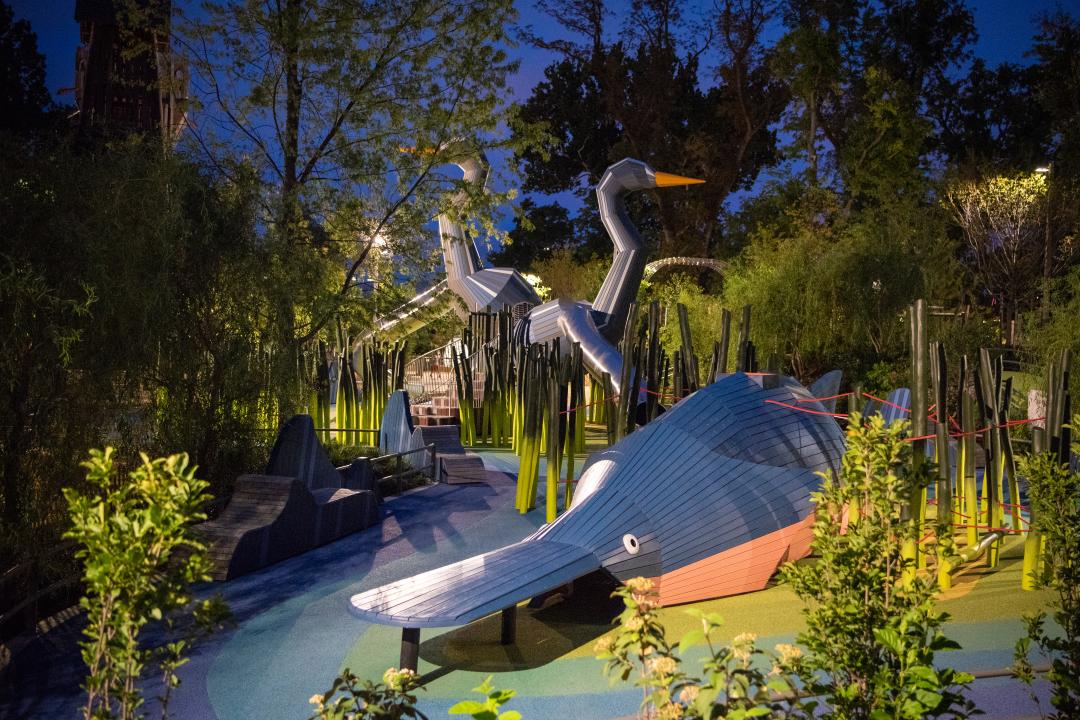 Tulsa, OK, USA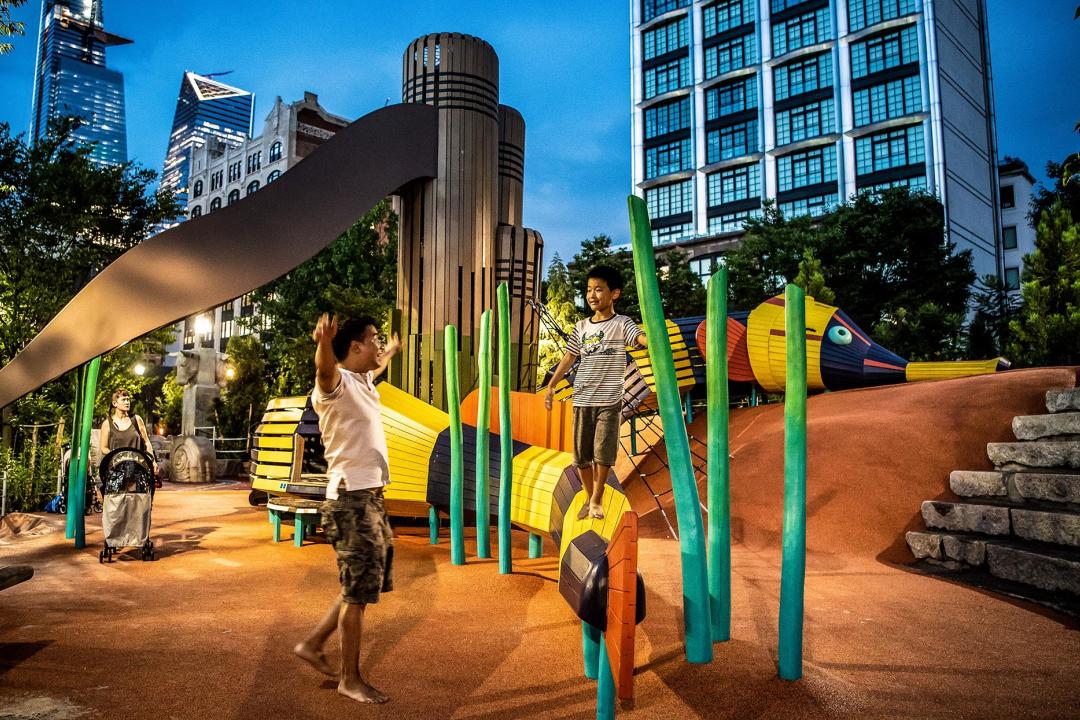 New York, USA