WHERE: 
Finest Hotel, Punta Cana, Dominican Republic - 2021
CUSTOMER: 
Finest Hotel
One of our most exotic projects yet - we were asked to create a unique, playful scene for the new Finest Hotel in Punta Cana in keeping with their values. Finest Resorts sought to create an experience that is joyful, modern, inclusive, playful, lively and luxurious at the hotel. A MONSTRUM playground was a perfect match for that mission! The result was the stunning flamingo and its baby (freshly hatched from its egg) surrounded by gorgeous flowers and plants. The new playground is seamlessly integrated into the beautiful landscape design of the hotel grounds. The design and color scheme are vibrant and inviting and it is already a much-loved attraction for young and old hotel patrons.
We ran a competition on our Instagram account to find the name of the playground and the winning bid was "Flamingogo". 
The playground has tons of play features for kids to try out! There's everything from a big slide and fun climbing course to a hammock to relax and reflect and plan the next adventure from!
Climb up and check out these larger-than-life lilies before sliding down the steel bars!
The cute baby flamingo is a good play area for the younger ones with a smaller slide and a ladder to climb up.
Navigate the huge leaves and flowers as you explore the flamingo's habitat.
A playground is for EVERYONE - young and old will find stimulating challenges here to keep them entertained for hours and there are even areas for the grown-ups to relax and observe.
The slides are specially designed in plastic to suit the location with its warm temperatures and plenty of sunlight, which would normally result in very warm steel slides.
The Finest Hotel Punta Cana is in a stunning location.
PRODUCTION AT OUR COPENHAGEN WORKSHOP
A visualization of the playground design by our Senior Architect, Sarrah Mikkelsen.
SIMILAR CASES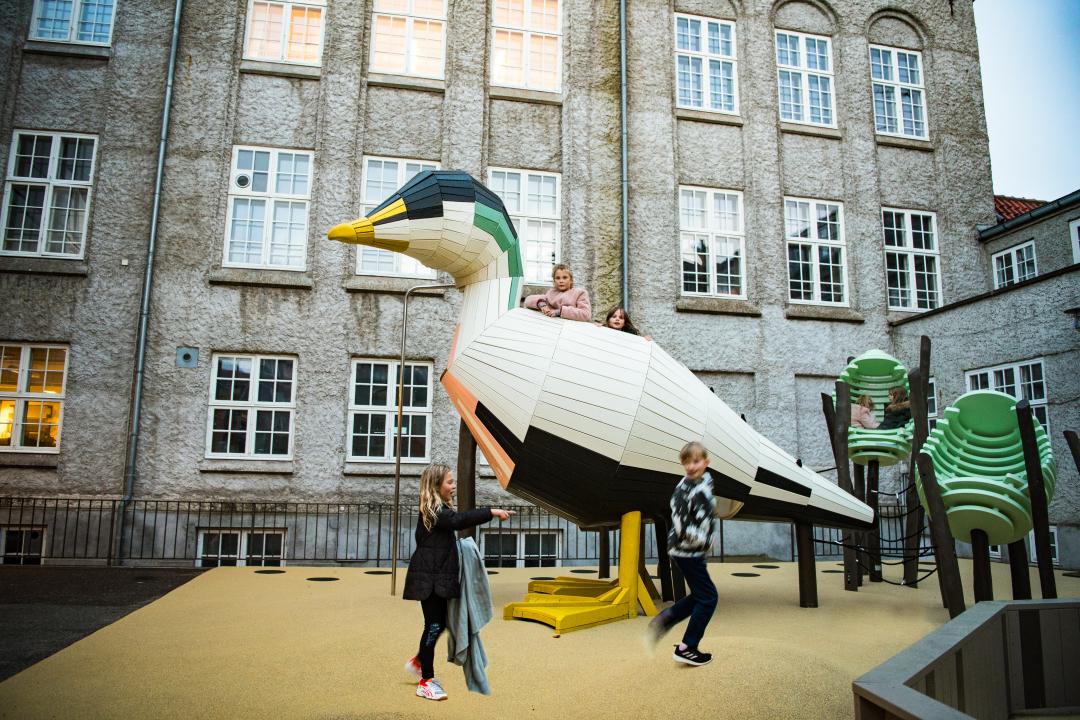 Taarbæk, Denmark