BLAZING BATTLE
OF THE DRAGON
WHERE: 
Dubai Hills Park, Dubai
COLLABORATION: 
Insite Landscape Architects
CUSTOMER: 
City of Dubai
Dubai Hills Park is the biggest park in the city of Dubai, spanning an impressive 180,000 square metres, and is a lush green oasis at the heart of the Dubai Hills Estate. Constructed as the longest park in any residential community, it is known for its natural beauty with 1,800 trees and palms planted.
To match the scale and ambition of the park, MONSTRUM was assigned the task of creating a dramatic and adventurous playground. We decided to create a battle scene with a big dragon, which must be one of the most dramatic creatures of them all!
The dragon is an iconic animal we all know from old fairytales to modern-day culture, that symbolises power, strength and untamed nature. The idea was to centre the playground around the creature while it spreads its impressive wingspan. It is attacking a big medieval tower on an island, burning it with its flaming breath that forms a slide for the kids to burst out of. It sets fire to the wooden trunks across from it, turning them red and brown as they burn. 
The dragon is designed to create play for kids of all ages. the small ones can climb its tail, while the bigger ones can challenge themselves and climb up its back and wings. 
The leaves next to the dragon are placed on springs so the kids can balance and jump on them. 
RUN FOR YOU LIFE
OR FACE THE DRAGON?
The kids can challenge their balance on the suspension bridge or they can take the alternative route to the tower by climbing the ropes on the wooden trunks.
The kids can have a cosy hangout time in the hammock under the right wing of the dragon.
The kids can crawl inside the head of the dragon and slide out of its mouth. 
The wooden trunks form a maze for the kids to play catch in or crawl across. 
SIMILAR PROJECTS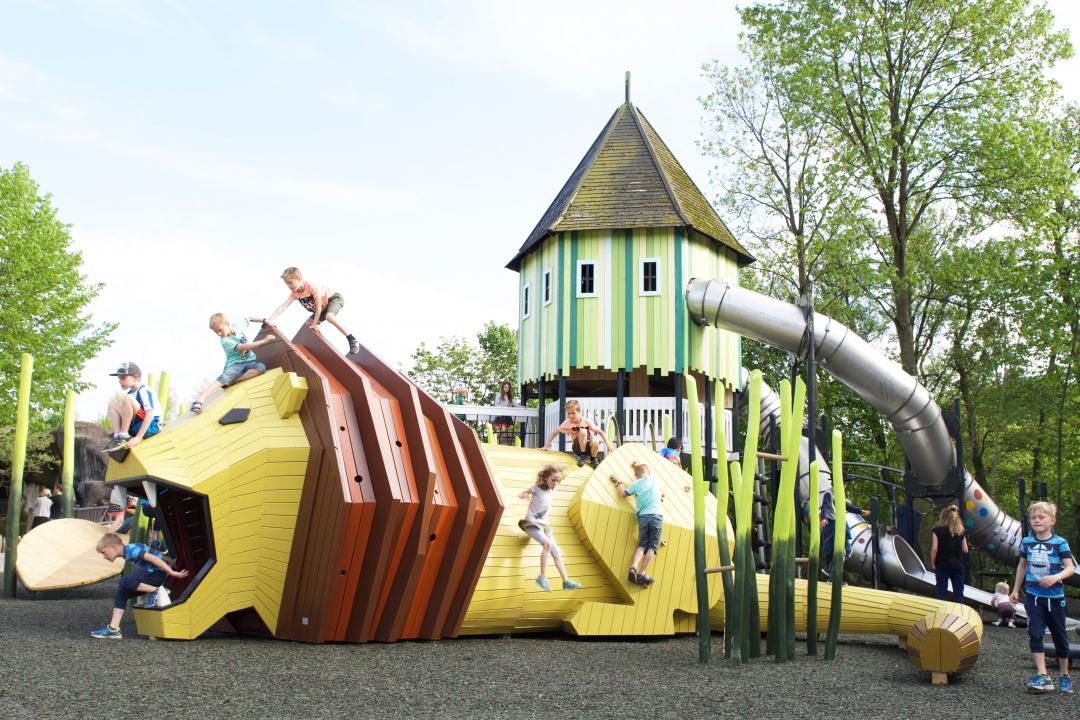 Odense, Denmark