THE BIRD
HAVEN
PLAYGROUND
WHERE: 
Butky Park, Prague, Czech Republic - 2023
CUSTOMER:
Galerie Butovice
Nestled amongst trees and greenery, you'll discover a haven for feathered friends of all shapes and sizes. Come and get acquainted with the friendly toucan and the huge ostrich, with its head buried in the sand! Alongside the birds, you'll discover the fun eggs and an entire village of beautiful birdhouses including a fascinating 3-storey birdhouse!
Located at the Galerie Butovice shopping centre, the playground is a fantastic attraction for families coming to the centre, creating a breathing space before or after a shopping trip. The playground's beautiful pastel colours and stunning design make it appealing to a wide audience - both young and old.
The playground is a magical space guaranteed to provide hours of free, imaginative play!
The huge 6-meter tall ostrich with its head buried in the sand is thrilling to explore.
COME EXPLORE
THE BIRD KINGDOM
The playground is designed with various areas that are connected by a common narrative. Fun details and visual cues lead you from one part of the playground to another and the adventurous scene even continues inside Galerie Butovice, where there is a smaller indoor play area.
The playground is a hub for social activity, making a trip to the shopping centre even more attractive for the entire family!
A rendered visualization of the playground areas.
The ostrich and the toucan are chatting away and like to play together all day long. Try to balance all the way along the ostrich's long tongue to the toucan!
Climb up and say "hi" to the friendly toucan! 
Venstre kolonne
Make sure to explore the insides of the ostrich before jumping down the big tube slide.
Højre kolonne
Details like the feathers to climb up to the ostrich are both artistic touches and provide physical challenges compared to a conventional staircase or ladder.
The beautiful birdhouses are laid out to form a bird village full of fun hideaways to explore.
Venstre kolonne
Check out the view from up in the larger-than-life birdhouses!
Højre kolonne
Details like the starling bird connect the playground areas visually.
The playground is designed with multiple challenges for all ages and accessible features such as this wide, low staircase.
The two eggs are connected by a series of small egg-shaped platforms in different sizes and at different heights.
Venstre kolonne
The obstacle course of trunks and platforms is fun to navigate.
Højre kolonne
Inside the eggs there are platforms to climb to and holes, you can peek out through.
THE ADVENTURE
CONTINUES  INSIDE
Inside the shopping center, you'll discover there's more playtime to be had! The indoor playground is a fun continuation of the outdoor playspace and provides some respite for families during their shopping trip. The play elements are also beautiful decorative sculptures - enjoyable for all ages!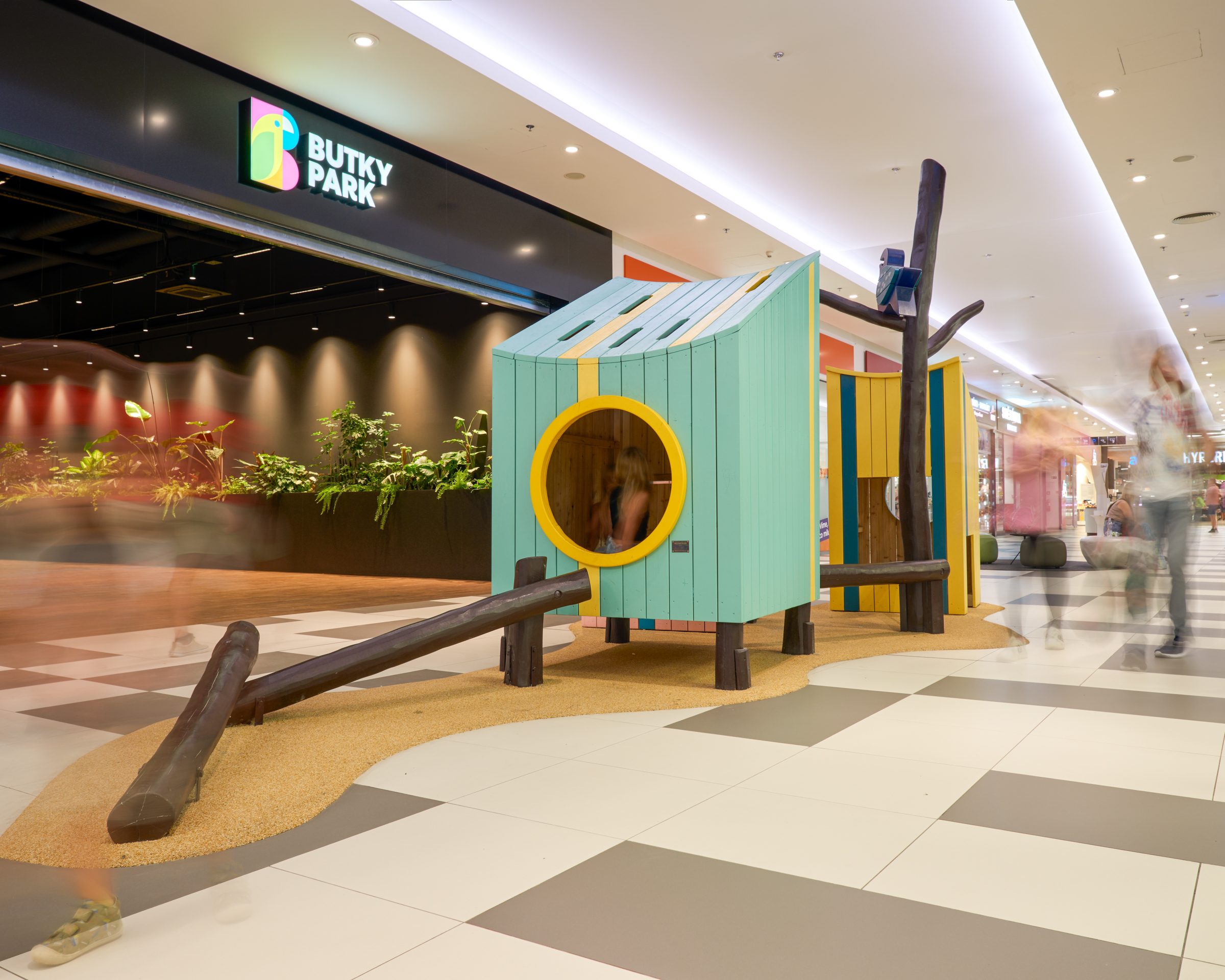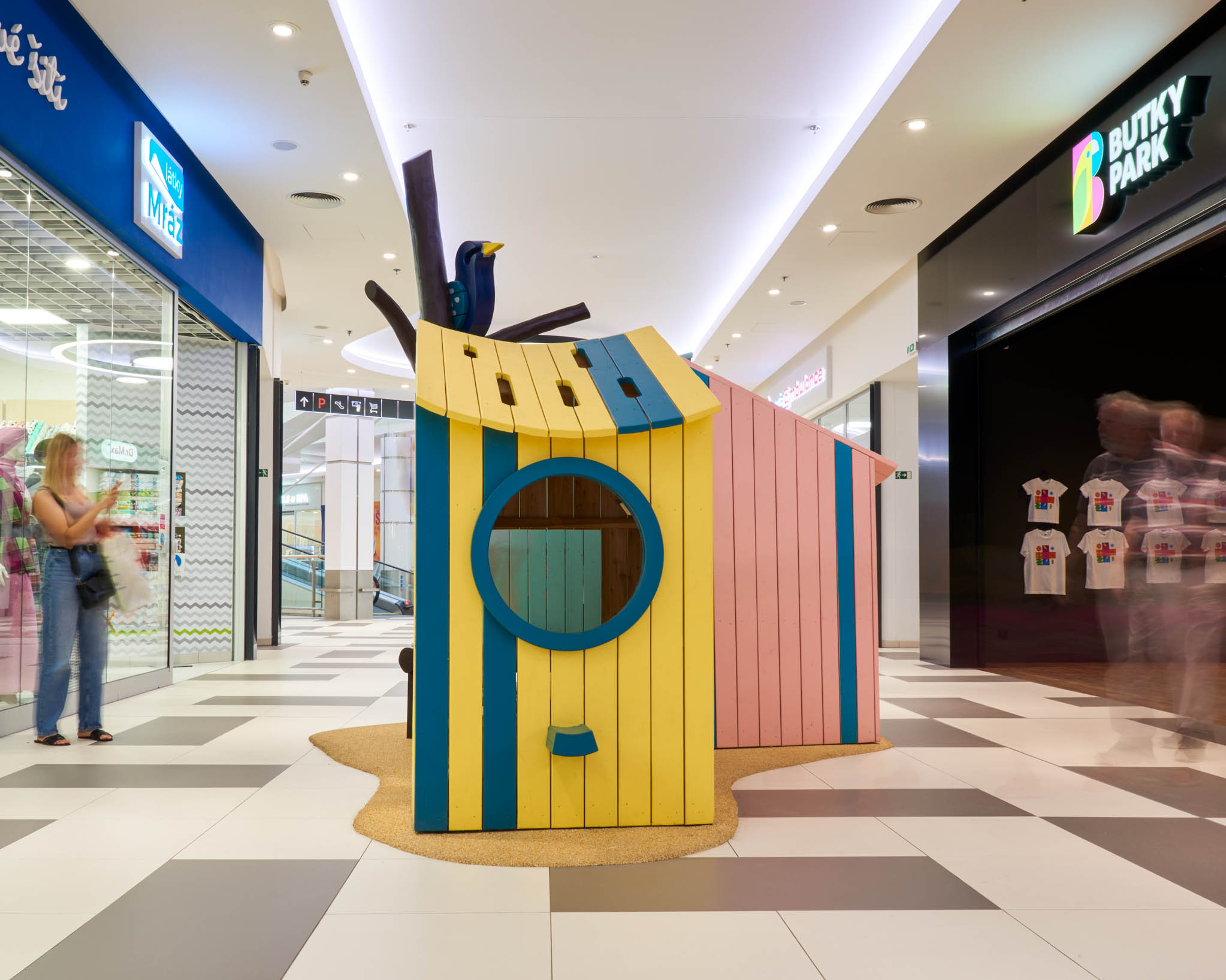 SIMILAR CASES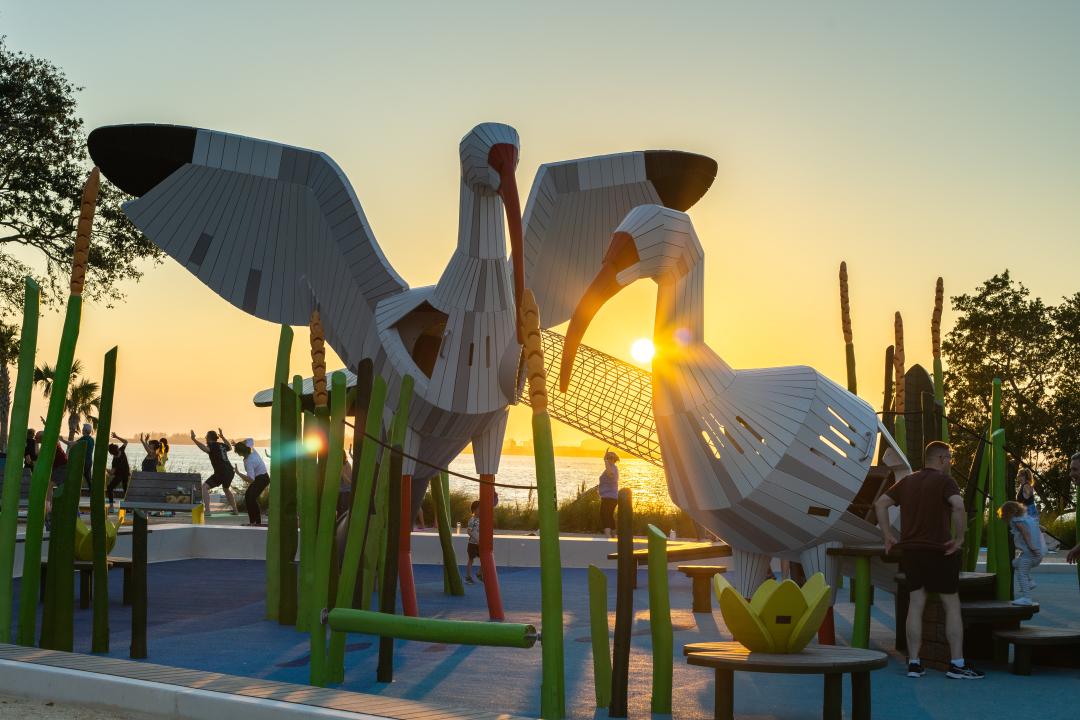 Sarasota, FL, USA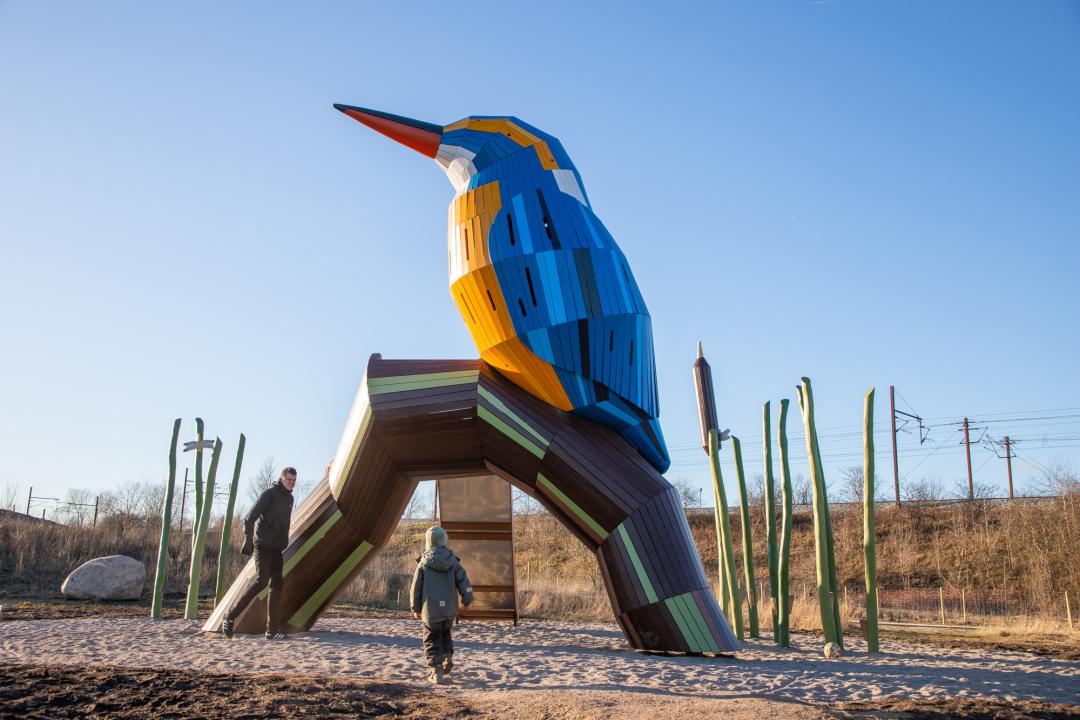 Albertslund, Denmark