THE S/S
OCEANLINER
AND OCTOPUS
WHERE: 
Moscow, Russia - 2013
CUSTOMER:
Gorky Park
Gorky Park, the largest park in Moscow, underwent major reconstruction in 2011 with the aim of modernising and making the site an important part of the capital. The new features include free entry, Wi-Fi coverage, contemporary design and an extensive events program. Today the park has more than 250.000 visitors at weekends.
MONSTRUM was asked to design and produce a marine-themed playground, because of the placement of the playground next to the biggest lake in the park. 
The octopus has a slide and is connected to the oceanliner, so kids can climb from one construction to the other. 
The wooden trunks are connected by rope and the kids can balance across them. 
FLEE OR FIGHT
THE GIANT
OCTOPUS
OF THE DEEP?
The playground is inspired by Jules Verne and the attack of the giant sea monster. It consists of a 13.5-meter long vessel, a giant red octopus attacking the end of the ship, a lighthouse and a moon in the sky, besides many other features such as swings and balancing trunks. 
The design of the ship is based on the magnificent 1930 Ocean Liners and has a kitchen, a captain's cabin and a ballroom inside. At night the insides are lit up, along with the moon in the sky, making it a dramatic scene of a battle at night.
The octopus can be climbed using the climbing grips, that are attached to its sides. It is also accessible by ladder. 
HURRY AND
HOLD ON
TO THE
RAILING
SIMILAR PROJECTS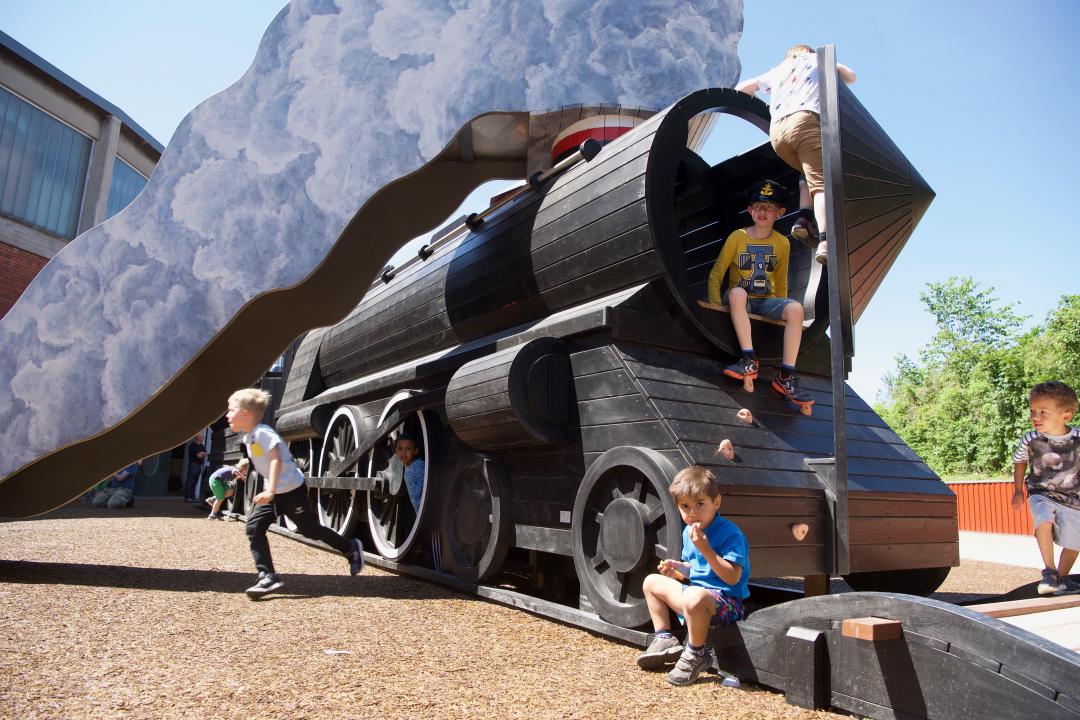 Odense, Denmark
Dubai, United Arab Emirates