LILIDOREI
PLAY VILLAGE


- COMING SOON
WHERE: 
The Alnwick Garden, Northumberland, England - Opening Easter 2023
CUSTOMER: 
The Alnwick Garden
The enchanted universe that is Lilidorei had lived in the imagination of the Duchess of Northumberland, Jane Percy, for 12 years when she approached MONSTRUM with a big idea to build Elfwin Drin's castle. We were intrigued from the outset and it's been quite the journey designing, building, and installing the world's largest play structure with its gigantic central 24-meter-tall tower. This landmark project is composed of multitudes of thrilling play features including huge tube slides, endless connecting bridges, and interconnected towers to explore!
The play village is due to open at Easter 2023.
Lilidorei during installation at The Alnwick Garden.
AN
ENCHANTED
KINGDOM
OF PLAY
With the mission of getting kids off their phones and exploring outdoors, the Lilidorei experience is designed to be completely immersive, awakening all the senses and capturing kids' imagination. Through the use of lights, sounds, and interactive play elements, children will be transported deep into the land of the 9 magical clans and forget all about their electronic devices!
Whether they're exploring the house of the goblins or taking in the enchanted fairy dwellings, kids will be thrilled and drawn in by this extravagant play universe.
The project is the latest addition to the 1,300-hectare estate surrounding Grade I-listed Alnwick Castle. The multi-award-winning Alnwick Garden receives around 360,000 visitors a year and the hope is to attract even more visitors to the Northumberland area, while also creating job opportunities for ex-military servicemen. Lilidorei has committed to being accessible for all by providing "Free Fridays" in school-term time so children of all backgrounds can come and experience the magic!
Installation was completed in mid-December 2022 and we can't wait to see how Lilidorei is received upon its opening at Easter 2023. Until then...come in and take a closer look at this vast play village - you can almost feel the magic!
RISKY PLAY
CREATES HEALTHY,
HAPPY KIDS
"Lilidorei...embodies everything that childhood is meant to be about."
Psychologist Emma Kenny and a group of local primary school children paid the Lilidorei site a visit during installation. Emma hosted a discussion with the children focused on play, being creative, and being outdoors.
"When children indulge in unstructured activities and allow their imaginations to run wild, research suggests they become more resilient and able to self-soothe and self-regulate their emotions, contributing to future success in life. Lilidorei is great/fantastic/astonishingly beautiful for kids because it embodies everything that childhood is meant to be about. It's about testing fears, doing it in a safe environment but also never losing sight of the magic of childhood, because it's fleeting, it's momentary and it's also so profoundly important - where divergent thinking, creativity and imagination is formed."
EMMA KENNY, PSYCHOLOGIST 
LILIDOREI IN NUMBERS
15K
HOURS OF CONSTRUCTION
AT MONSTRUM

150
TONNES OF
PLAY EQUIPMENT
NR 1
LARGEST PLAY
STRUCTURE
IN THE WORLD

MEET THE
DESIGNER
"When we first met with The Duchess back in 2020 and she introduced us to the story of Elfwin Drin - King of Lilidorei, I was truly inspired and I thought to myself, Elfwin Drin's castle must be all giant Christmas trees!
In short, the concept I imagined, was a world designed by elves and built by trolls. You should feel as if you are in a forest with houses carved into the tree trunks, suspension bridges connecting one treetop to the other, light sparkling from the roofs, and giant baubles hanging from the branches. 
At Elfwin Drin's castle, you simply expect to see something magical that will blow your mind and is out of this world - taller and bigger than anything you have ever experienced before. A world ruled by Christmas. Some areas are more melancholic and mystical, others light and dreamy. A place where you can't see the beginning or find the end."
TOMAS KNUDSEN, SENIOR DESIGNER 
ONE-OF-A-KIND
PLAYGROUND
IN THE MAKING

In MONSTRUM's history, we've created our fair share of large-scale, unique playgrounds, however the vision of Lilidorei was like nothing we'd ever tackled before! Our team of skilled designers, engineers, carpenters and painters embraced every challenge head-on to complete this unprecedented playground design and construction.
After 15,030 accumulated hours of construction in our workshop, we were ready to send off 28 trucks loaded with the magical play elements that would become Elfwin Drin's castle at Lilidorei!
DESIGN PROCESS - SKETCHES
PRODUCTION AT MONSTRUM, COPENHAGEN
Some of the many MONSTRUM craftsmen, that built and installed Lilidorei.
SIGN UP FOR OUR NEWSLETTER!
Do you want to receive news and interesting information about our playgrounds, kids development through play and other exciting things happening at MONSTRUM?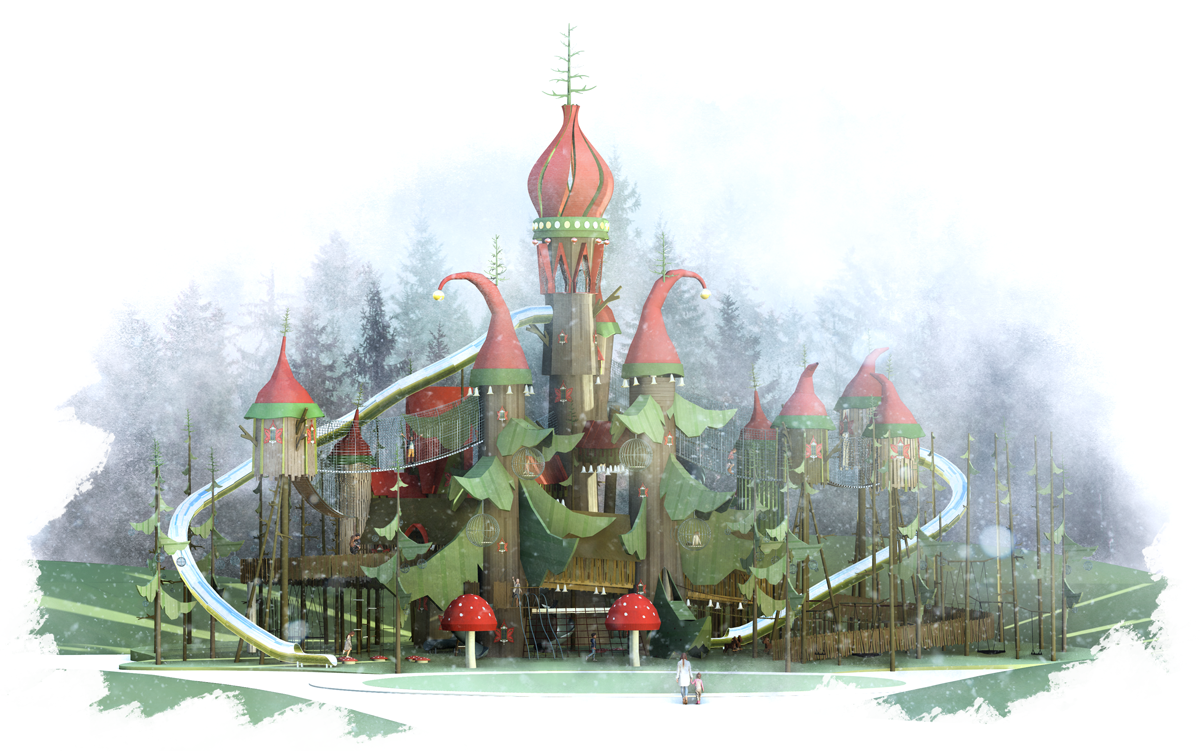 LILIDOREI PRESS LINKS
Press & media coverage
PRESS
CONTACT
For press inquiries and requests regarding image
usage and permissions, please contact our brand manager.
HANNAH BRETHERTON HJORTH
BRAND MANAGER
+ 45 33 22 10 77
HH@MONSTRUM.DK