THE
AFFENZAHN
ISLAND
PLAYGROUND
WHERE: 
Affenzahn Offices, Cologne - 2021
CUSTOMER: 
Affenzahn
Affenzahn, known for their iconic, playful rucksacks, shoes and accessories were looking to create a flagship playground at their headquarter offices, complete with kindergarten, in Cologne, Germany. Tasked with capturing the spirit of the Affenzahn characters and inviting children to join their story, we created an adventurous playground, where you can meet and explore the curious monkey, caring koala and courageous tigress.

You can climb, jump, bounce, build, slide and more on the various elements of the playground. Affenzahn want to aid children and parents in discovering five core values together - family, friendship, security, trust and honesty - and what better way to do that than through play?
The monkey is great for all ages - the older kids can climb up its back, while the younger ones can hand out homemade sand products from the open belly of the monkey.
Venstre kolonne
The tigress is a super fun figure for kids to explore.
Climb up the friendly koala.
Clamber and run across the rope net obstacle course to get from the monkey to the tigress.
The flowers are beautiful decorative elements, setting the scene of the home of the Affenzahn friends.
The design of the playground was inspired by a combination of the iconic Affenzahn rucksacks and the illustrations of the figures from their children's books and the characters were transformed into sculptural play elements. Below, you can see some of our process - from Affenzahn's own illustrations to our designer's first rough sketches in the brainstorming phase to the 3D render of some of the playground.
Affenzahn's illustration of their friendly characters.
Venstre kolonne
The Affenzahn monkey illustration.
Højre kolonne
Early brainstorm sketches of the playground.
SIMILAR PROJECTS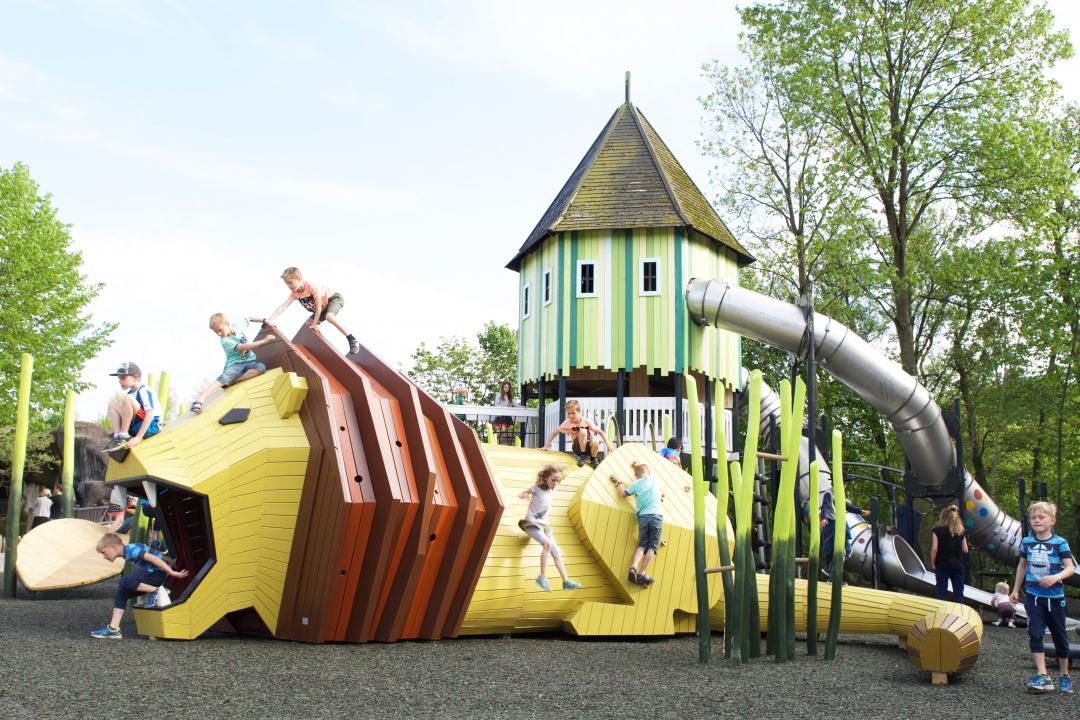 Odense, Denmark