About
Focus on design, artistic and architectural quality
At MONSTRUM we create thematic playgrounds that fascinate and inspire both adults and children.
Based on visual arts and design, MONSTRUM makes playgrounds that can not only be climbed, ripped down or swung in, but can start the game by being an area where there is space for imagination.
Children should be allowed to experience danger and feel the tickle in the stomach that occurs when you take a chance and land happily on your feet again. We challenge the children in a safe environment.
All our playgrounds are handmade from wood at our workshop in Denmark. Our skilled craftsmen and designers work closely together throughout the process to ensure that our playgrounds and equipments become fun, safe and unique.
Why play on a climbing frame if you can play in a space rocket, a submarine, a giant snail house, a clown head or a Trojan horse?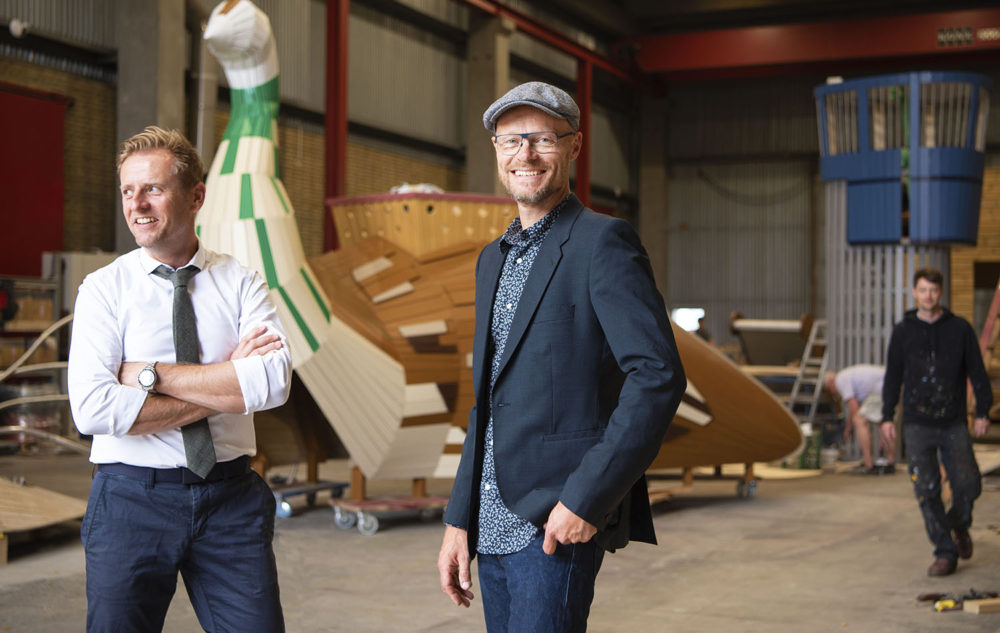 THIS IS HOW THE MONSTRUM-IDEA STARTED
MONSTRUM was founded in 2003 by the enthusiasts Ole Barslund Nielsen and Christian Jensen, who met each other in the Danish theater world, where they assembled scenographies. The idea of the company arose when the kindergarten where Ole's five-year-old son, Sixten Gustav, needed a new playground. Ole joined a parent group who had to choose the play equipment.

"I could see that for the given budget I could do something that reminded of theater scenography and gave better play possibilities than the known playground concepts. My colleague, designer Christian Jensen, helped with the work, and it became a really nice playground that the children and the educators (and the parents) became very happy with. This playground led us to form MONSTRUM together, "
– Ole Barslund Nielsen.
At MONSTRUM, we are now 36 builders, designers and architects at our workshop in Brøndby. We export playgrounds to a lot of countries all over the world and we are proud that the world has seen the quality of our playgrounds.
AWARDS AND NOMINATIONS 
German Design Award 2018, Winner, Chunga-Play Gound, Odense Zoo, Denmark
Reddot Design Award 2017, Winner,Chunga-Play Gound, Odense Zoo, Denmark
International Design Award 2017, Winner Category, Chunga-Play Gound, Odense Zoo, Denmark
Stockholm's Best Playground 2014, bedste legeplads 2014, nominated, Långe Eriks Förskola, Sweden
German Design Award 2014, nominated
Beautiful Places Copenhagen 2013, voted by the City of Copenhagen for the Tårnlegepladsen in Fælledparken.
INDEX, design to improve life award 2013, nominated
InnovationSTORM 2013, nominated
Danish Design Award 2012, Winner
AOK, The City's Best Childern Experience, Copenhagen 2012, winner
Swedish Architect's Plan Prize 2010, Malmö City won with Spider Playground.